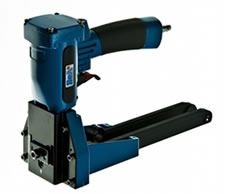 AT-A22 Pneumatic Air Stick
This durable air tool is designed to staple corrugated cardboard for closing boxes. The BeA AT-A series air closers have separate adjustments for staple leg length, depth of penetration and tightness of clinch. These adjustments afford the ability to perform both through and blind clinching of box flaps. Cycle through trigger valving maximizes speed of operation. Designed for clinching 7/8 and 3/4 inch leg length A-Crown (1 3/8in wide) staples.
Technical Data Model: AT-A22
Standard Standard Part number: 12100283
Loading type: rear loading rear loading
Fastener type: 1 3/8″ x 7/8″ and 3/4″
Magazine capacity: 100
Working pressure: 70-90 P.S.I.
Maximum air pressure: 100 P.S.I.
Air consumption: 0.04 cu.ft./cycle @ 80 P.S.I.
Recommended hose I.D.: 3/8″
Weight: 5.84 lbs.