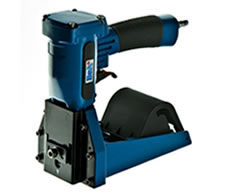 CT-IC-1823 Pneumatic stapler
The BeA CT-IC and series pneumatic roll carton stapler, with its cycle through trigger valving and 1,000 staple loading capacity, is ideal for high speed, high volume box closing applications. Separate adjustments for staple leg length, depth of penetration and tightness of clinch facilitate everything from full through clinching to blind clinching of box flaps. At 5.22lbs this is the one of the lightest portable roll carton stapler available. These tools incorporate an innovated magazine release lever to make clearing quick and easy should a jam occur.
Technical Data
Model: CT-IC-1823 Standard
Part number: 12100287
Loading type: top loading
Fastener type: 1 1/4″ x 5/8′ and 3/4″ (GR Type)
Magazine capacity: 1000
Standard load, strips x fasteners/strip: 1 coil @ 1000
Working pressure: 70-90 P.S.I.
Maximum air pressure: 100 P.S.I.
Air consumption: 0.04 cu.ft./cycle @ 80 P.S.I.
Recommended hose I.D.: 3/8″
Weight: 5.22 lbs.