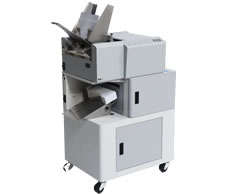 Double Edge
The Double EDGE takes your print efficiency to the next level with its duplex print capability. Easily print on both sides of your mail piece with one click of a button.
Whether you're a corporate/organizational mail room, a dedicated print shop, marketer, or mailing house, you'll find the EDGE to be a compelling solution for your color printing needs.
This powerhouse can cover all your paper printing needs with a rich 16.8 million-color palette with a super-sharp 1600×1600 dpi print resolution on both sides in one run.