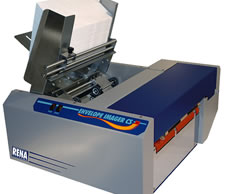 ENVELOPE IMAGER CS
The Rena Envelope Imager CS is an entry-level inkjet address printer that is wholly unique in the RENA Systems line.  Not only does it offer a class-leading price, but is has the ability to print in brilliant, full process color.  Utilizing exclusive HP PhotoSmart software technology to produce millions of accurate colors, the Rena Envelope Imager CS has photo realistic print quality that is unmatched.  Its shuttle-head design gives it a print area of 8.5" wide by 14" high.  Now one envelope printer can print postcards (the whole thing), envelopes, flats, and documents all in a single pass.
4,300 Pieces/hr
Full Process HP Photo Color
Integrated Capping & Cleaning Station
Clutch-Control Integrated Feeder
USB & Parallel Ports
Our Most Affordable Printer!