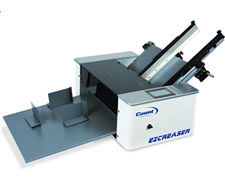 EZCreaser Digital Creasing Machine
Touch Screen, Affordable, Friction Top Feed Automatic Creasing, Perforating, and Scoring Machine. Has the Ability to Micro-Perf, Rotary Score, and Crease up to 12 times per sheet.
• Automatic setups with the touch of a button.
• Accurate Rotary Actuated Impact Creasing
• Linear Perf/Score capabilities, including micro and laser perf.
• Micro-Lateral adjustable Feed Rails
• Batch and Total Counters
• Automated Distance Recognition
• Ability to add Inline Folder
• Ability to add Inline transport to the Countcoat UV Coater
• Comes with both standard and wide crease dies.