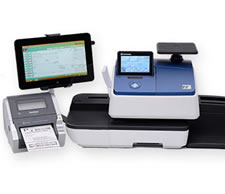 Mailone 2.0 Ship.it
Ship.it MailOne 2.0 & PostBase Bundle
Say hello to FP's bundle of mailing joy.
Ship.it combines into a compact package the sleek PostBase postage meter with a Windows tablet running powerful MailOne 2.0 software and a dedicated label printer, giving small businesses a complete postage solution for packages and letters.
PostBase Postage Meter
PostBase is FP's award-winning mailing system that makes printing postage smooth and efficient.
Speed from 30-85 letters/min
Scale from 5-15lbs
Available in 6 colors
Optional auto-feed & seal
10.8" Tablet with MailOne 2.0 Software
We've installed MailOne 2.0 software on a sleek Dell tablet to supercharge your mail processing and give you important USPS shipping discounts.