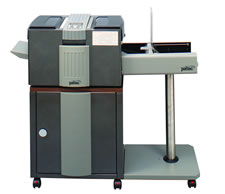 MX9000
The most advanced office desktop pressure sealer!
The MX9000 is the perfect choice for most high volume needs as it processes up to 9,000 forms per hour with a monthly duty cycle of 200,000 pieces.
It is built with an oversized four roller sealing unit to ensure superior performance. And features our Reverse Friction Rollers which automatically detect double feeds and self-corrects itself without operator involvement. Its' auto-lift feed tray holds up to 700 pressure seal forms to minimize restocking.
No envelope needed, seals single-sheet self mailers. A greener way to mail.
(Formerly Known As MX6000)