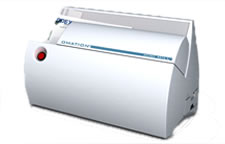 OMATION Mini Mill
The Omation MINI MILL letter opener is the automated letter opener that is small enough for the front desk and powerful enough for the back office.
Compact size
The OMATION MINI MILL is small enough to fit on just about any surface with a footprint under 17 inches. It is also lightweight at only 19 pounds.
Easy to operate
With its intuitive design, using the MINI MILL is a snap. Simply flip on the power button, slide mixed mail into the feeder, and the MINI MILL will do the rest.
Milling technology
At the heart of the MINI MILL is milling technology. By milling tiny chips from the edge of the envelope instead of slicing it, the MINI MILL quickly opens mail while protecting its contents. The MINI MILL also protects from painful paper cuts by producing a soft feathered edge.