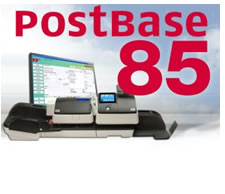 PostBase 85
Introducing the FP PostBase 85. This total solution brings best-in-class mailing technology, smooth feeding and intuitive operation to your office environment.
COLOR TOUCHSCREEN
Easily navigate through the PostBase's menu of choices: advertisements, class of mail, special services, and more.
CUSTOMIZE WITH COLOR
Make your mailing system stand out by choosing from a variety of colors
ONLINE PORTAL
Access additional services for the PostBase as well as other offers related to your mailing system.