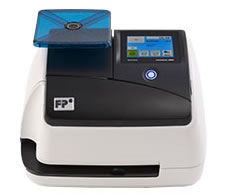 PostBase Mini
The PostBase Mini is part of FP's PostBase line of postage meters. The Mini can process up to 17 letters per minute and is perfect for small businesses with light mail volume. It's the first and only small business meter to include IMI (Intelligent Mail Indicia), the U.S. Postal Service's most secure postage data and imprinting system.
Adopting PostBase's award-winning design in a brilliantly small form, the Mini features a color touch screen that makes setup and operations as easy as withdrawing cash on an ATM. PostBase Mini is also quiet as a typical office conversation, making it a perfectly polite office mate.
Key Features
Whisper-quiet operation
User-friendly color touch screen control
The only meter on the market with IMI security
Available high capacity (up to 70 lbs) external scale
Typical Usage
Letters: The PostBase Mini is a light-volume machine, designed for small businesses that process no more than a few hundred letters per month.
Shipping: When combined with an external scale (via included PC software), the Mini can print postage for packages up to 70 lbs.*