AJ 160 We are an Authorized Dealer
The AJ 160 Address Printer offers high speed printing in a convenient desktop size. The proven Inkjet technology ensures sharp, smear-free printing of addresses, graphics, logos, and barcodes. Designed for standalone desktop operation, the AJ 160 also integrates with a conveyor system, feeder and drop-tray for handling larger jobs.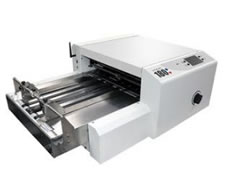 AJ 180 We are an Authorized Dealer
The AJ 180 Address Printer prints sharp addresses, graphics, and logos at high speeds. This In-line printer is designed to use with additional mailroom equipment like desktop folders, folder inserters and more for a complete mailing system. The AJ 180 is available in right-to-left and left-to-right operation models.
AJ 3600/3800 We are an Authorized Dealer
The AJ 3600/3800 prints addresses, attention lines, postal barcodes, return addresses, and permit indica. This complete printing solution provides the flexibility you need to cost-effectively boost productivity and enhance image quality.